Changelog
Here the newly released version with a description of changes or solved bugs
V3.3.0.514
Changed prerequisites , REQUIRED VC++2015 REDISTRIBUTABLE (x86) ,~~ INSTEAD VC2013 (X86)~~

Mill Module - New Feature " FOLDER " . With this feature is possible apply transformation to toolpaths in order to duplicate the same toolpath in different position. Currently available ROTATE and LINEAR pattern.

Now is possible visualize all the toolpath of the selected operations in tree view . Keep pressed CTRL key and select multiple items to select more item at once.
G.Code generation of just the selected operation. Option available in Generation screen dialog.
Updated DUTCH localization, thanks to Mr. Sigu**
Lathe Module - Fixed bug with wrong initial position in particular cases.
Removed "preview toolpath on mouse over" behaviour in tree view.

---
V3.3.0.5
Cut simulation integrated into main window .
Rapid Collision detection available , here more info.
Is possible define a different machine origin point at setup level.
---
V3.2.0.703
Mill Module - "Add Drill Tip Length" option. It extend the tool final depth by the length of drill tip. The additional distance is calculated reading tool geometry and tip angle.

Mill Module - In chamfer operation , is possible define the chamfer diameter. The effective tool depth is calculate reading the tool geometry.
New Feature - Is possible create script in C# language. You can now automatize and extend ecam functionality. Take a look a the related documentation for more information.

Improved performance - Previously with a lot of entities on the scene , a bug in the snap system made it slow the software responsiveness. Now the problem it's solved.

Tool Store - Is possible visualize tool preview into 2D preview screen under the geometry tab.
---
V3.2.0.225
Mill Module - Fixed bug in side milling machining with finish and chamfering operations. Now it's machined selected side of geometries.
Cut Simulation - Fixed problem with Zoom To Fit method
Edited HOME Treeview style, now it's more compatible with smaller monitor resolution
---
V3.2.0.160
Lathe Module - Is possible define tailstock and visualize it the scene. It's not provided any collision check or toolpath avoid logic. Is settable from "Setup" screen
---
V3.2.0.148
Lathe Module : Improved profile selection method . Now is possible select all the complete closed contourn. The correct profile will be extracted based on current machining operation type.

Lathe Module - New Feature : Is possible define boundaries ( limits ) to selected profile. This permits to machine just the desidered profile section .

Bug Solved . In some pc, due to DPI setting, the cursor had an offset with effective pointed area.
---
V3.2.0.43
Bug Solved - Fixed issue in CHANGE PLANE method with edit geometry screen
New tool for send fixed language translation. You can find it under [ File ] -> [ Fix Translation ]
---
V3.1.0.873
Bug Solved - Fixed memory problem with with stock of big size .
Bug Solved - Optimized the speed of snap cursor with a lot of entities on scene.
Tool Store - Syncronize correctly synchronous feed after changing asynchronous feed property
Tool Store - Added corner radius property for end mill .
---
V3.1.0.833
Bug Solved - In tool store view, now it syncronize tool data parameter with selected material stock.
Update Speed and Feed values after tool diameter property change.
Update Feed values after tool flute count property change.
New Feature - After cad file import, a screen with the most common basic edits is visible in the left column.
Is possible rotate to left or right , scale , selected the origin point , change destination plane and flip all the entities, with few mouse click.
---
V3.1.0.741
Bug Solved - With custom stock definition, the software was crashing if single line was selected.
Tools View - Now is possible sorting tool list by clicking on column header . It's also available the search field text box, useful for finding tools by diameter or by name.
---
V3.1.0.723
Contextual hints are shows in the top right corner of the window, with icon and description .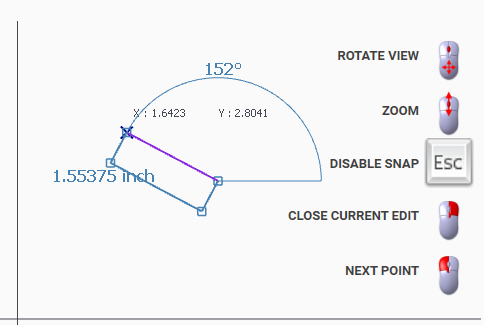 ---
V3.1.0.686
Cad editor : Improved offset method, is possible have rounded corner.
Fixed Bug with Cad file import, now it explode grouped entities.

Cam Mode : It show the drill tool overlay in drilling operations .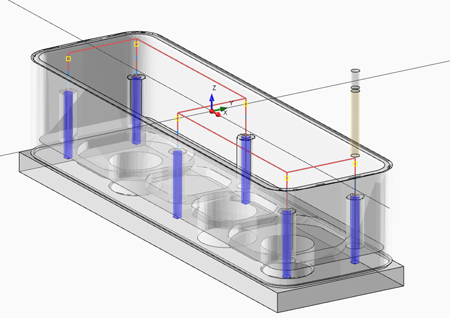 ---
V3.1.624
Cad Editor . Fixed bug with detail screens. On properties edit , it update circle and line shapes.
Mill Module : Fixed bug with feed and retract movement to safe Z
---
V3.1.597
Improved general perfomance with big toolpaths.
It create an ecm file with smaller dimension.
Forced transparency when CAD mode is active
If manually edited, it keep output g-code filepath from generation dialog.
Fixed bug in backplotting, it simulate next operation when current one is terminated.
---
V3.1.343
Mill Module : Improved hole selection from cad geometries.
Now is possible select all available holes with the same diameter of the picked one [Select circle with same diameter]
Better naming of selected geometry
In drilling operations , by default is proposed the most compatible drill tool from tool store , for the last selected circle geometry.
This behaviour is disabled for the current operation if user input manually the drilling diameter value.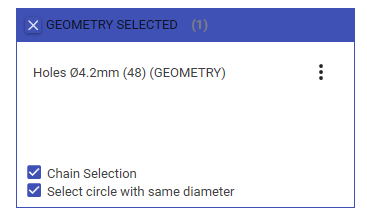 ---
V3.1.323
Solved bug with cached toolpaths. Resulting in large ecm file dimension.
Improved performance on refresh method.
---
V3.1.280
Fixed bug with feed values and secure z coordinate in milling module.
---
V3.1.275
New Feature - Trim By Current Stock
Solved bug - in some case it was calling wrong code for cutter compensation
---
V3.1.228
added {COO_X_DIA} tag in G71 macro template
Added Summary of used tools screen, to open it, click this icon on home screen.
Improved performance after tool selection, reduce the idle time.
Fixed labels in drill cutting parameter screen
Zig-Zag strategy for face milling operation
---
V3.1.0.95
Solved a bug in initialization stage